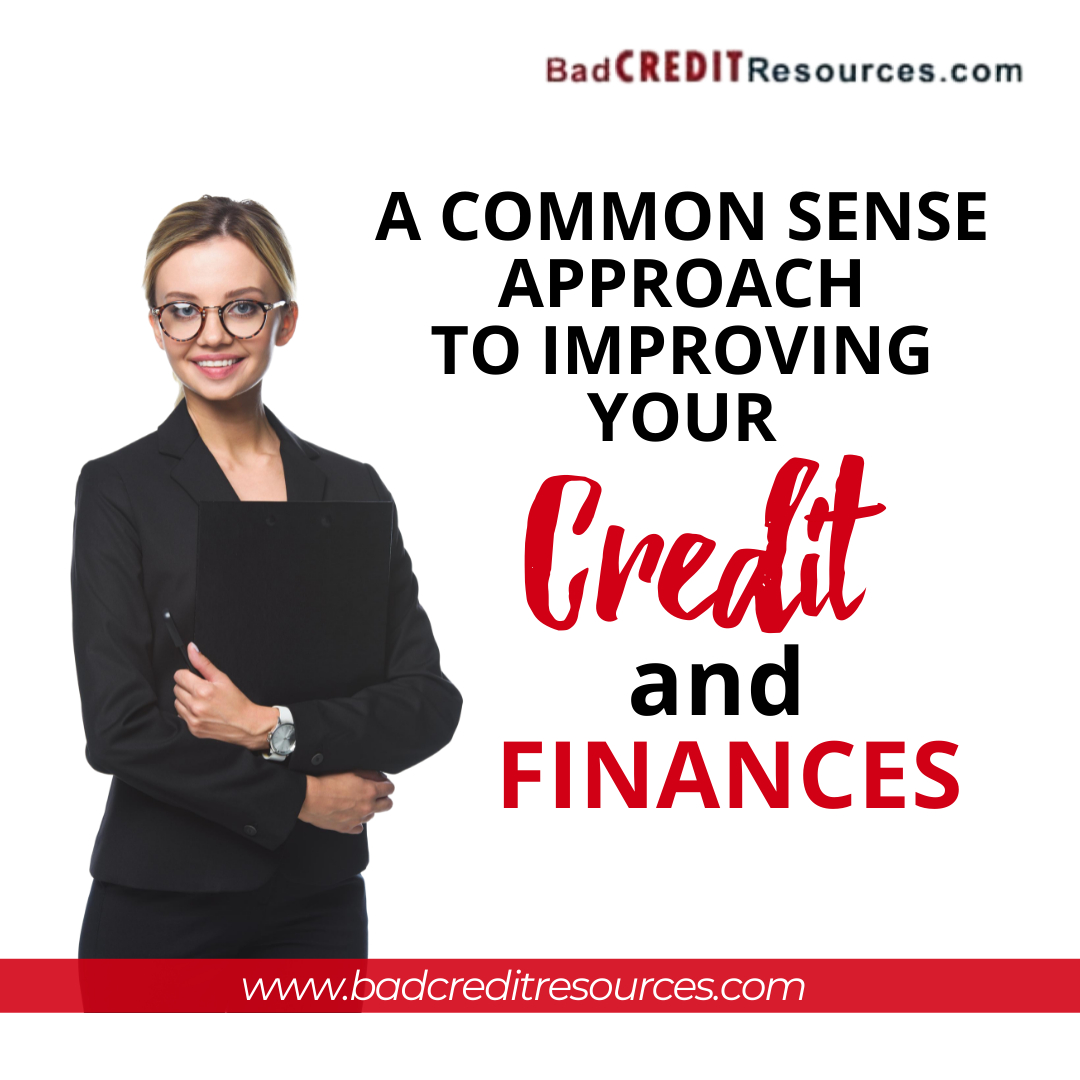 It is not impossible to repair poor credit these days.
Lots of people have proved that they can recover from financial troubles and get back on their feet.
Even though it took them some time to do this, with time, careful spending and focusing on paying off debt, they overcame their financial problems and improve their credit.
How You Too, Can Improve Your Credit Score
1. Get your Latest Credit Report.
You must obtain a copy of your credit reports. This will give you a clearer picture of your current credit standing. Once you receive your report, be sure to examine it carefully. Look out for errors in your personal information.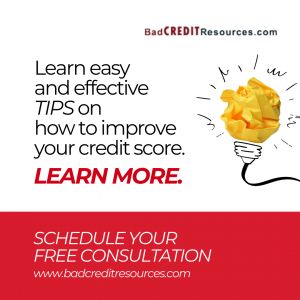 Then check for inaccuracies in your accounts. If you find erroneous or outdated entries, file a dispute letter right away. Why is this important?
Mistakes in your credit report can damage your credit score. Remember that a single error can significantly reduce your credit rating as well as your credit options. This is why you should send your dispute letter immediately. It will prompt credit bureaus to investigate your records as soon as possible. If they see that your claim is valid, they will eliminate the errors in your file and provide you an updated credit report. This will in turn help you gain a precise understanding of your credit status.
2. Create a budget
You want to create a budget that you can live with.  You need to take the following into account.
Your monthly TAKE HOME pay.  After taxes, insurance, etc is taken out.  How much are you left?
Bill payment calendar – Clearly, mark on a calendar (one where you can see the whole month at a glance) when your bills are due.
Prioritize your debt.  Your mortgage/rent, car payments, utilities are all payments you want to keep on top of and pay off monthly.  Then look at your credit cards, put on your calendar minimum amount due.
Set up automatic payments for all your accounts – so that you don't worry about making a late payment.  You want to set up your credit cards with the minimum amount…but once you're done with your budget you can send additional payments!
Allocate Your Disposable Income: You should by now know how much of your paycheck is left after making your monthly payments.
Make saving a priority – Figure out how much of that money should go into your savings account.  It's important to have a "rainy day fund"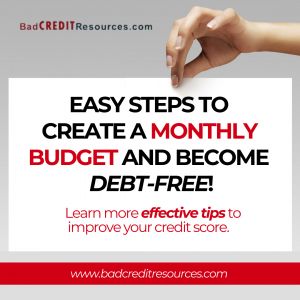 7. Give yourself some spending money. You also want some "walk-around money" but you don't want to give yourself so much that you buy things impulsively.  You may want to put this money on a debit card and understand that once this money is spent, you have no more money for "extras"
8. Make a second payment on your credit cards. After putting money away in savings whats left is the amount you have to make extra payments on your credit card debt.  When my sister used this method, on the last day of the month she would split this money up between 3 of her credit cards and send an additional payment to all 3.
9. How to prioritize your credit card debt – When choosing which credit cards to pay off first, look at the interest rate.  Whichever is highest you want to pay them off first.  If the rates are all similar you want to look at the available credit.  If you are using more than 30% of your credit limit, that card is negatively affecting your credit score.
3. Apply for a

bad credit credit card

.
When most people are trying to improve their credit score, they put 100% of their efforts into disputing inaccurate information.  They completely forget that they need NEW positive tradelines to show they are now able to make their payments on time.
You want to look for the following types of cards to help you to start to rebuild your credit.
Hard inquiry vs soft inquiry – when applying for an unsecured bad credit credit card, they will still pull your credit report.  A bank that uses a hard inquiry will pull your credit and your score will go down each time a bank pulls it.  But some banks are now using a soft inquiry. That means they look at your credit report, but your credit score isn't harmed by their inquiry.
Secured credit cards – these are your safest bet.  Most of them are guaranteed approval so they don't even credit check.  These will report to all 3 credit bureaus.  We have some guidelines on our page about secured credit cards about what to look for in a secured credit card.
Instant Approval / Guaranteed Approval credit cards –  these are catalog credit cards.  You can only buy things from their catalog BUT if they submit your payment history to even 1 credit bureau, it's worth having at least 1!  The more new POSITIVE tradelines you build the better.

4. Use your new credit responsibly.
The key to rebuilding credit history is the responsible use of your credit lines.  This is your opportunity to fill your credit report with new positive tradelines.  Your creditors will be able to see that yes, you went thru a "rough patch" but you are now over it. You're paying your debts on time.  And you are no longer a big credit risk.
5. Seek professional help.
Finally, if you have gone thru the above steps and you are not seeing results.  You may want to hire a professional company to help you.  The company we refer our clients to (Financial Education Services)  not only helps people to restore their credit, but they have credit attorneys on staff to take your credit repair to the next level and financial tools to help you monitor your credit and reduce your debt.