Many people do not realize until they get deep into debt is the reality that being buried in debt is very depressing.
Debt can begin to have a negative effect over all of your life if you aren't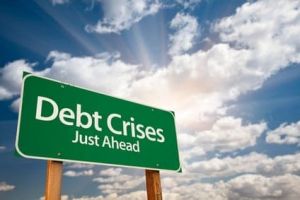 careful, and it's difficult to stop thinking about your situation  once it has started to consume your day to day thoughts. The right way to avoid debt is not to ever allow it to become a problem in the first place, but that sort of advice usually only helps those who are on the outside looking in.
When you realize you are drowning in debt, you have to look at the reality of  the situation and make sure that you do everything you can to get started on choosing the ideal debt consolidation plan right away.
If you don't handle this situation right away you will soon find yourself dealing with a severe case of depression. Money worries are one of the biggest causes of depression and its effects spread into other aspects of your life.
Can you still get a loan when you are deep in debt?
Getting a loan while dealing with a large amount of debt is difficult but not impossible. If you don't have the best score on your credit report, then it's going to be challenging for you to obtain a loan  for a car or house. Before you even consider getting further into debt ,you have to think about what you can do to manage the debt  you already have on the books.
Is debt consolidation an option for me?
If you need to get out of debt and take control of your life, then you may want to look into debt consolidation. Debt generally comes from a variety of sources but most debt consolidation companies generally deal only with credit card debt. Not all consolidation companies have this restriction though. You should read there terms of service and see if your situation matches their ideal client.
It makes sense to try to consolidate all of those loans into something manageable. When you go through the process of debt consolidation, you can sometimes get a lower interest rate that will be able to help you make your monthly payments on a regular basis. Some debt consolidation companies will negotiate with your creditors to lower or remove the interest accruing on your account. Interest is the worst enemy of someone who is in debt because it is money that you can see going to nothing right away.
Anyone who is living paycheck to paycheck with no hope of increasing their income in the near future, will watch their debt problem continue to grow. Thus pushing themselves into a solitary and depressive state of mind. It is hard to get yourself out of a bad situation once you become severely depressed, so you need to start to take action before you have yet another serious problem on your hands.