No Credit?  No problem!  Here are our top 5 picks of the best credit cards for NO credit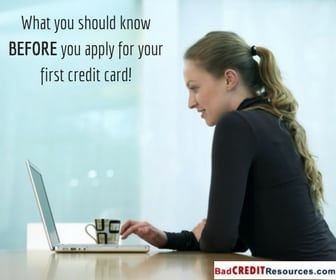 Are you just turning 18 or new to the country?  Looking for the best credit cards for people with no credit?  Below you will find our top 5 choices for building a brand new credit file when you have no / limited credit, and why we chose them!
The Two Big Credit Scoring Models
The 2 main credit scoring models are FICO and VantageScore.  FICO has been the standard, but VantageScore is slowly catching up.  The VantageScore is a lot more "forgiving" than the FICO score and tends to be higher.  But not all lenders are using this…yet.  Over the last 3 years, more and more lenders have started to accept the VantageScore.
How your credit score is calculated
35% how you pay – this is one of the biggest factors to your credit score and one of the reasons so many people suffer from very low credit scores.  Missed payments will drag your score down.  Make sure you set up all your accounts on automatic payment.   
30% – amount you owe – excessive credit card debt is one of the biggest reasons why people are forced to file bankruptcy.  The more outstanding revolving debt you have, the higher the chances are you will go bankrupt.  That's why it's important to pay off your credit cards each month.
15% – how long you have had credit – this become important later when you have a high credit score and start thinking about closing these "starter" credit cards.  As a rule of thumb its best to keep your accounts open.  Just because they are open doesn't mean you have to use them!  I have some department store cards I've had for over 20 years.  I use them once or twice a year to keep them active, Because of their age, it helps keep my credit score high!
10% types of credit you have – too many people with bad credit have 3 or more bad credit unsecured credit cards and think they are building a solid credit report!  WRONG.   You need to have installment loans and retail accounts too!
10% how much new credit you have –  You should start building credit as soon as possible.  You don't want to walk into a bank needing a loan urgently and get declined because you have no credit history.
Keeping these factors in mind lets talk about how to use our list of the top 5 best credit cards for no credit to start building your credit.
As stated above the biggest part of your credit score is how you pay.  The next big piece is how much you owe.  Together those 2 factors make up 65% of your score.   As you start your credit journey one of the first things you should do is set up any new line of credit you get on auto pay.  Even if you do it just for the minimum amount.  You want to make it a priority that your payments are made on time.
The second thing you should think about is how much you spend.  Ideally, you should only have outstanding 30-35% of your available credit.  Since you are just starting out with credit, your credit limits may be low.  So if you open 3 credit cards and they all have a $500 credit limit that gives you a total available credit of $1500.  Which means you should only have $450 as outstanding at the end of the month.  It's a good habit to get into to pay off your credit cards in full each month.
Lastly, don't forget about diversification.  You should have a mixture of tradelines.
Installment loans
Revolving debt
Mortgage tradelines – did you know you can put your rent on your credit report?  Check out this service, they will submit your payments to TransUnion every month (Rent Reporters)
Our top 4 picks for the best credit cards for no credit
The Freedom Gold Card makes it to the top of this list because it is guaranteed approval and gives you a large $750 credit limit.  This is a store credit card so it can only be used to buy items from the company that issues it.
Total Visa® Card – this is an unsecured bad credit credit card.  It made it to the #2 spot because of the growing trend of people looking for an unsecured credit card to start building credit.   It's a true Visa card and is NOT tied to a catalog or merchandise site. Click here to apply for this card!
Applied Bank® Secured Visa® Gold Preferred® Credit Card – This card made the #3 spot on our list because it has a great feature that not all secured credit cards have.  The ability to add to your credit limit!  You can open the card with $200 and over time you can grow your credit limit to $5000.00! No credit check, no minimum credit score required, reports to all 3 credit reporting agencies and has a low 9.99 APR.  Secured cards are a great way to build credit and have a lot of benefits.  You can read more information on secured credit cards here.  Click here to apply for this secured credit card
Net First Platinum  – made the #5 spot because it is a guaranteed approval credit card.   It is a merchandise card which means you can only use it to buy merchandise from their catalog. But it is an instant approval card, no credit check, and no employment verification!  Click here for this catalog credit card
One last tip to help you build a strong credit file 
Once you have your new credit, PROTECT IT!  Identity theft is a HUGE problem.  Getting a service like Lifelock is a wise decision.  Lifelock will constantly monitor your credit and notify you if anyone is trying to use it.  If someone does successfully open new accounts in your name, they will help with closing those accounts and even offer a guarantee to protect you from any financial problems the Id thieves may cause.