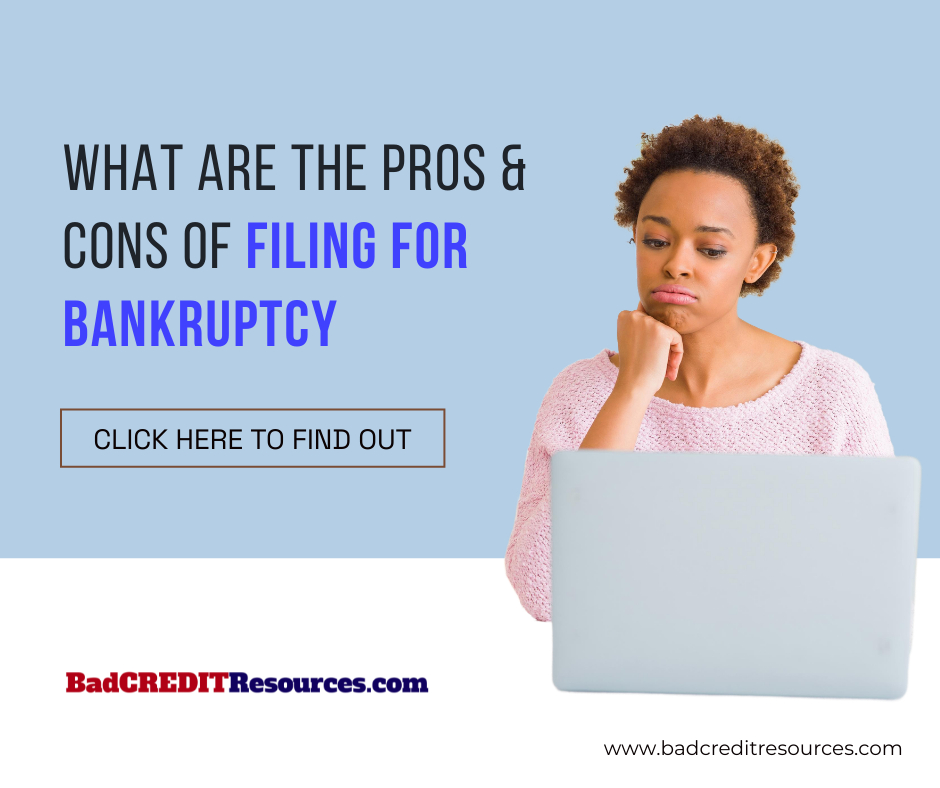 It can be hard to decide to file for bankruptcy, but for many, it's the best way to start over. You can start over with a clean slate and get rid of your debts by filing for bankruptcy. However, bankruptcy has some disadvantages, so you should weigh the pros and cons of filing for bankruptcy before making a decision.
In this article, let's take a closer look at the pros and cons of filing for bankruptcy and how it should affect your decision on whether to seek bankruptcy or not.
The Pros of Filing for Bankruptcy
When filed for the right reasons, bankruptcy can have advantages or benefits for an individual. 
Stop creditor harassment
First, it releases you from the pressure and stress of having creditors constantly obliging you to pay.
Some creditors are known to harass borrowers, and such harassment can rob you of your privacy and peace.
Once you have filed for bankruptcy, all creditors are prohibited from trying to contact you in any way or pursuing any debt collection practice.
It will definitely give you peace of mind and relief.
The freedom from overwhelming debt
Debt can be a tremendous burden to bear. You may feel as if you are carrying the entire world on your back. It can be hard to see a way out when you're struggling to make ends meet and pay your bills. 
It is where bankruptcy comes into the picture. Bankruptcy can provide you with relief from mountains of debt.
The fresh start you get to rebuild your life.
You can finally begin rebuilding your life after a long and hard bankruptcy process. It is a new beginning where you can set and achieve new goals. One significant benefit of bankruptcy is that it clears the slate, allowing you to start over. You can now concentrate on the future without being distracted by the past.
Chapter 7 and Chapter 13 bankruptcy
If you get approved for a Chapter 7 bankruptcy, you will be set free from all debts you have with your creditors.
That means you can have a fresh start again and live a life free from debts.
If you do not qualify for Chapter 7, a Chapter 13 bankruptcy will put you under a bankruptcy repayment plan. Chapter 13 requires you to submit a certain percentage from your monthly wage as payment for your debts.
Even if Chapter 13 does not totally exempt you from your debts, going through a bankruptcy repayment plan is a big help in debt management.
The Cons of Filing for Bankruptcy
Are there disadvantages to filing for bankruptcy? 
What consequences will you be facing if you choose to file for bankruptcy?
The negative impact on your credit score
A bankruptcy record is a derogatory mark that will remain on your credit report for seven years. Imagine how potential employers, landlords, insurers, and future creditors would react if they saw that you have just been through bankruptcy. Even though your credit score and status can improve, it takes time to get back on track.
The fees associated with filing for bankruptcy
Going through a bankruptcy procedure also requires money and a great deal of your time. 
Today, you need to hire a bankruptcy lawyer to prepare your documents. 
Although there are bankruptcy lawyers who ask for a small fee for their services usually, your best bet would be to hire someone who asks for a considerable service charge. 
What happens after filing for bankruptcy?
After filing for bankruptcy, are you guaranteed to get approval? 
Under the new bankruptcy law, the debtor must pass the "Income Means Calculation Test" to determine whether he will be eligible to file for a Chapter 7 Bankruptcy or Chapter 13 Bankruptcy.
Remember that if you don't qualify for a Chapter 7, a Chapter 13 will still subject you to a five-year debt payback plan.
Nevertheless, a Chapter 13 repayment plan would be more affordable for your budget.
Should You File for Bankruptcy?
Your credit counseling agency should be able to help you decide whether filing for bankruptcy is really for you. If your credit counselor suggests taking alternative steps instead, then be cooperative. Be prepared to take on the challenge of getting out of debt without resorting to bankruptcy.
Finally, declaring bankruptcy is a viable choice for people who are drowning in debt and unable to make payments. 
It can free you from crushing debt and guide you toward financial stability. Before making any decisions, it's crucial to comprehend the effects bankruptcy will have on your life. Consult with a lawyer to learn more about your alternatives if you're thinking about filing for bankruptcy.