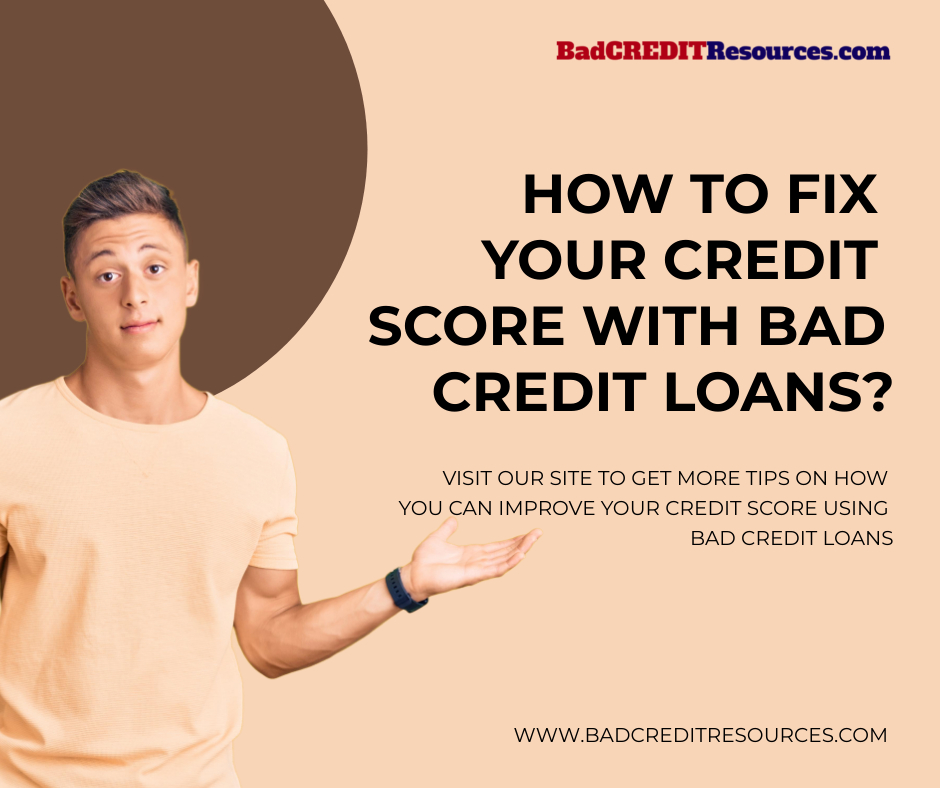 An issue that many people encounter regularly is bad credit. It could be hard to obtain any form of finance, which might be a barrier to purchasing the things you need. If you have a low credit score, you may be wondering how to raise it. One option is to use bad credit loans. These loans can help you improve your credit score by increasing your utilization ratio and credit history.
Besides that, bad credit loans can assist you in obtaining the funds you require immediately, which can improve your overall financial situation.
Having bad credit makes it difficult to obtain any form of loans, especially an unsecured personal loan.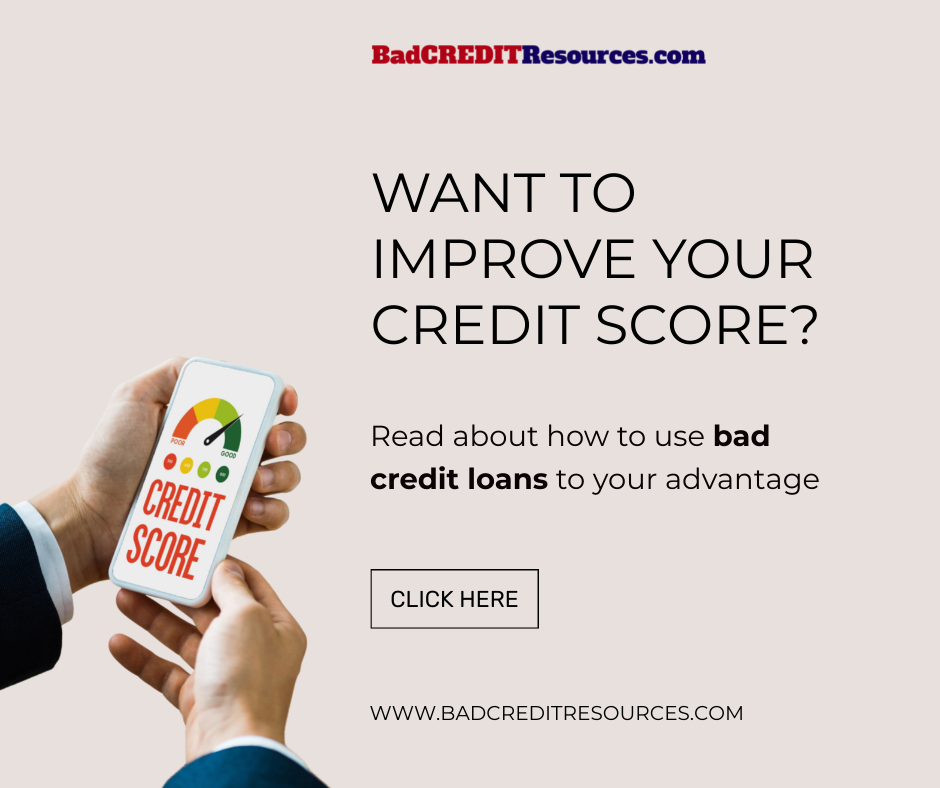 Before 2008, getting financing even with bad credit was simple. The banks WANTED to lend as much money as possible. But when the economy took a hit and so many people went into foreclosure, many banks tightened up their credit requirements. 
Getting a personal loan became possible only for those with excellent credit or people with co-signers with excellent credit. But in 2015, I started noticing a change in the market.
New lenders appeared that were willing to make bad credit personal loans. Yes, bad credit loans do exist in the market, but they come at a price. Now many lenders want to protect themselves from the high default rate they experienced before. The new bad credit personal loans came with higher fees, higher interest rates, shorter repayment terms, and smaller loan amounts. But there is something you can do.
Before applying for loans: Give your credit score a quick boost
Yes, bad credit loans do not require a good credit score. But you want to get the best rate possible, correct? If you have the time before you need to get the loan. Fix any problems that may be there. Nothing is more frustrating than working with a client to get them approved for a bad credit loan only to discover on their credit report that they could have qualified for a better rate with a little more planning.
Things that will give your credit score a quick boost:
Check credit report for errors.
Checking your credit report is a quick and easy way to improve your credit score. You can check your credit report in three methods: hardcopy, online, or through a credit bureau. Regularly reviewing your credit report can help you identify and correct any errors. If you discover any errors, you must notify the credit reporting agencies to correct information errors immediately.
Pay down current credit card balances. 
It will help you increase your utilization rate, one of the factors lenders consider when evaluating a loan application. Paying off high-interest credit cards can also help your credit score. Credit card debt is one of the biggest reasons people file for bankruptcy. If you can not pay down your credit card debt, you can call your credit card companies and get them to raise your credit limit. The goal is that you will be under 30% utilization. So, if you have four credit cards, each with a $10,000 limit, you want to spend less than 30% of the $40,000 available credit. Therefore, you should use no more than $12,000 in total.
Keep your credit utilization low.
Credit utilization is one of the factors considered when determining a person's credit score. High credit utilization can harm your credit score, so keep it under 30%, and your credit score will go up! Your credit score will suffer if you use a large portion of your credit limit.
How to use bad credit loans to repair bad credit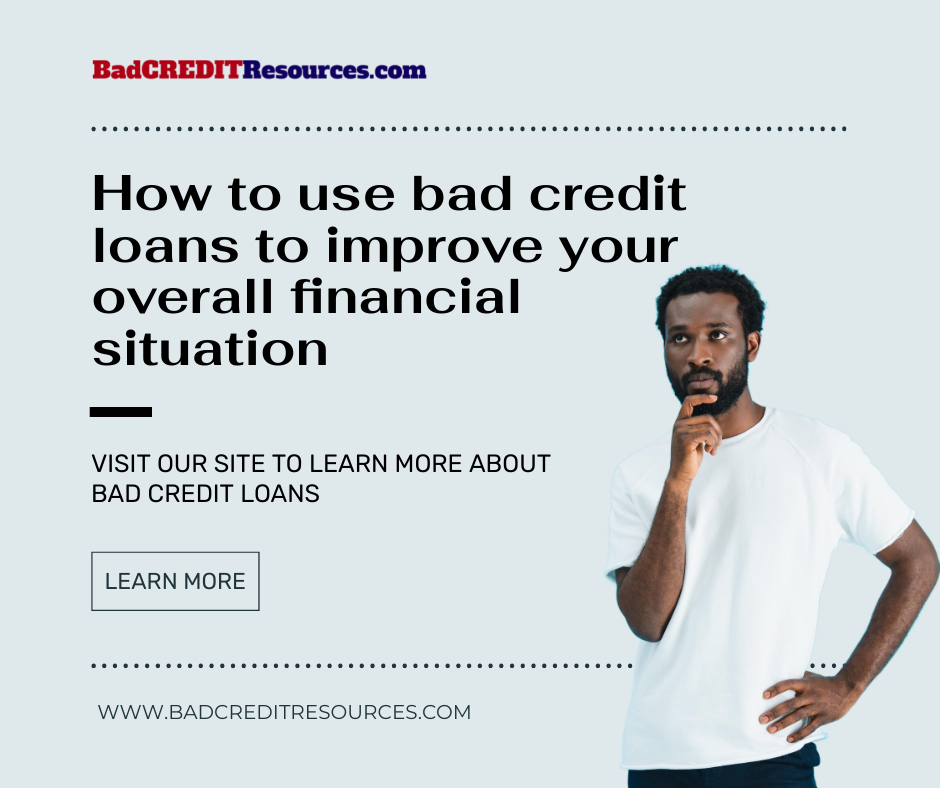 While you are working on fixing what you can on your credit report. You want to start to build new credit. That is where bad credit loans can help!
You have to understand that there is no such thing as instant credit repair; depending on how damaged your credit is, you may have a long hard road ahead. But you can help the process by starting to build new goods and trade lines. And a personal loan can do that for you.
First, select the bad credit lender with whom you want to work. We have a list of them here.

Make sure that the lender reports to at least one credit reporting agency.

Get approved for the loan and set it up for automatic payment. No one means to miss a payment. It just happens. Setting up automatic payment will make sure this never happens to you.

Since bad credit personal loans tend to have a higher interest rate, choose a short-term one. However, you should ideally have a 36-month term.

Get a 

bad credit card.

 You want to have a diverse credit report. A bad credit loan is just 1 of the accounts you should open.

Every few months, contact your creditors and inquire about increasing your credit limit. Having a bunch of $300 credit cards does not help your credit that much. However, requesting a credit limit increase every few months will demonstrate to prospective lenders that people who are currently working with you trust you enough to take on higher credit limits.
Here are five of the most common types of bad credit loans: 
The Path To Credit Recovery
You may need to allow at least six months of working on your credit score before you start seeing significant improvements. A big part of improving your credit score will be to remove the negative information. You can do this by disputing inaccurate information or negotiating with your creditors.
But the often neglected aspect of credit repair is rebuilding your credit profile. Spend just as much time looking for ways to add new tradelines to your credit report as you do in removing the negative information.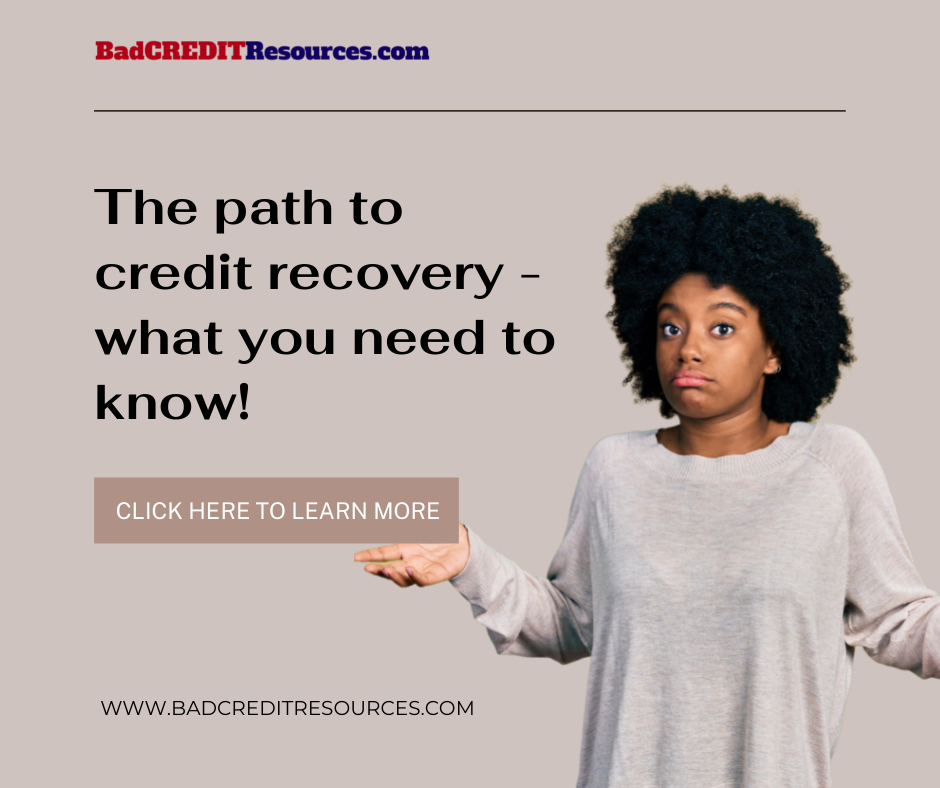 Spend just as much time looking for ways to add new tradelines to your credit report as you do in removing the negative information. Some quick credit score boosters are:
Add yourself as an authorized signer on a friend's or family member's account. Their good credit becomes yours. Some people will feel that it is too risky. But you can tell them you will never ask for a card, so you will never use it.

 Have someone co-sign on a loan or credit card for you. Again this will allow you to use their good credit to obtain financing. You will qualify for a better personal loan at a better interest rate. But it is risky for the co-signer. If you do not make the payments, it will negatively impact your credit score.
Consider using bad credit loans if you want to improve your credit score and solve your credit card debt problem quickly. These loans can assist you in obtaining a lower interest rate and making more manageable payments over time.
Bad credit loans can help you repair your credit and get back on track. However, ensure you understand the terms and conditions of any loan you take out, as there are frequently high-interest rates and late payment penalties.
Use the advice in this article to get started, and remember that credit counseling may be a good option for those with poor credit.