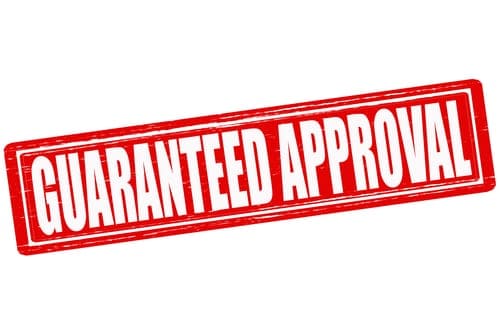 Having bad credit or a low credit score can really limit a person's choices when it comes to  obtaining loans or credit cards.  Since most lenders require good or excellent credit, you may find it very difficult to get an approval without first improving your credit.  But there is hope.  There are companies that cater to people with bad credit.  And they have come up with several different types of guaranteed approval credit cards that can help you to rebuild your credit. 
The Two Main Types Of Guaranteed Approval Credit Cards
Secured Credit Cards 
These credit cards are secured by a security deposit.  They are MOSTLY guaranteed approval.  There are a few that offer things like rewards that tend to pull credit and may not approve everyone.  But in general, most secured credit card companies will accept anyone that can put down the security deposit.
The benefits:
lower fees than most bad credit credit cards
very flexible credit requirements
will become unsecured after a year or 2 of on time payments
 You can read more about secured credit cards here. 
You can APPLY for a secured credit card by clicking here.
Catalog Credit Cards
These cards are guaranteed because they only allow you to purchase items thru their catalog.  Whats great about them is if you get one that gives you a high credit limit, it looks unsecured on your credit report!  Just make sure they report to the credit reporting agencies.  Not all of them do.
You can apply for a catalog credit card by clicking here
When choosing a guaranteed approval credit card – Consider the following tips:
Watch the fees.  Not all guaranteed approval credit cards are the same. Not every credit card that offers instant approval is worth signing up for.
Use your guaranteed approval credit card to improve your credit. A guaranteed approval credit card can be a great tool rebuilding your credit history. However, this will depend on how you handle your account and how you make your payments. Make sure that the card you choose reports to at least one credit reporting agency so that you are building credit.
The interest rate isn't the only fee you should be concerned about. Don't just find a card with a low interest rate. You'll want to make sure that there are no unreasonable costs associated with it.
Never sign up without reading your contract. Some people skip the credit card's terms and conditions because they're too long and written in such small print. But doing this very important step can save you from the risk of signing up with the wrong guaranteed approval credit card.
Again, next to the instant approval process, the next most important thing to check is that the card or cards you have chosen report to the credit bureaus.  The number complaint we get from people who have applied thru our site is that the card didn't report their activity.  We do our best to keep up with what the credit card sponsors on our site are doing.  But some of them will change their terms of service.  Even after you have the card.  They will send you some form of notification, usually a letter.  You need to pay attention to that, if it no longer reports, you really don't need it, if you got the card for its credit building properties.
Getting an instant approval card is just the first step. In order to successfully rebuild bad credit, you need to use your bad credit credit card regularly and be consistent in submitting your payments.